Babeshow icon Levi and her daughter McKenzie Bleu have been in the tabloids again, speaking about they're upcoming stay at a haunted hotel. British mature pornstar MILF Levi and her curvy teen 18+ daughter McKenzie are heading to the Ye Olde Kings Head in Chester this weekend and the hotel is already known as being the home to a few ghostly guests. The hotel prides itself on being 'the ultimate ghost hunting adventure in one of the country's most haunted locations'.  However, Levi and McKenzie have come up with the perfect plan to keep the spirits at bay. They told the Daily Star in this interview:
"We love the paranormal but we are also complete scaredy cats so we have come up with a cunning plan. We will wear our sexiest PJs while sleeping over in an attempt to woo the spirits in the hope they may go easy on us."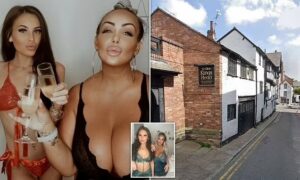 Surely that would only invite a bunch of horny ghosts into the girl's boudoir? Ah well, I guess it's worth a try. Levi made her live babeshow debut in 2002, and she went on to appear across several babe channels including Studio 66 and Red Light Central. She can be found on Babestation Cams where she regularly puts on nude private webcam shows from the comfort of her home. She caters to all kinds of kinks and fetishes, especially BDSM and foot worship. Levi's daughter McKenzie joined the Babenation schedule two years ago and she's learned everything there is to know about the business from her famous mother.
Levi opened up to the Daily Mail about her daughter's decision to join Babestation, claiming it wasn't always McKenzie's dream to become a glamour model. She had initially intended to work in an office but it was hard finding jobs during lockdown so she and her friends decided to make a Babestation Cams account. The money was so good that McKenzie couldn't see herself going back to a normal job. Fast forward two years and McKenzie is top of the babeshow leaderboard.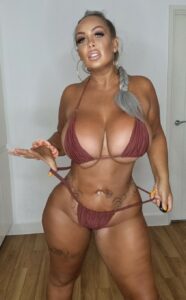 Levi and McKenzie come from a long line of ghost hunters, and the girl's are excited about their upcoming stay at the haunted inn. The hotel is currently home to a creepy doll – called The Grace Doll – that stays locked in a glass box with chains and padlocks. Levi is adamant that she will last the entire night at the creepy hotel but her daughter McKenzie isn't convinced. She reckons her mum will be running scared before dawn. After reading some of the reviews from previous guests, the girls will certainly have to keep their wits about them. Several guests have heard a little girl crying in one of the rooms while others who have stayed there revealed that they could smell rotten egg. Yikes.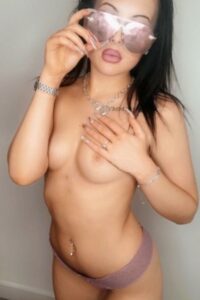 Join Levi or her daughter McKenzie Bleu for an intimate webcam experience or adult phone chat with seductive nude shows and pussy play via pervcam. Don't forget to check out the girl's X-Rated videos by signing up as a VIP we're you'll gain access to explicit pictures and the spiciest content brought to you by real British pornstars.