We take a look back at some of the hottest, the most impactful and best remembered babeshows blondes from yesteryear.  Here's our list, see what you think.  Have any suggestions of your own? Let us know in the comments.
Vicky Valentine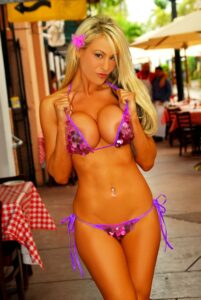 Renowned glamour model, Vicky Valentine was an unforgettable presence in the babeshow industry, having appeared on Babecast, Babestation and Bang Babes. Blonde with big tits and legs that went on for days, Vicky Valentine looked like an American Sports Illustrated model. Unless you spoke to her on the live phone sex lines, you would never have guessed she was from Warrington. In addition to her babeshow appearances, Vicky Valentine gained attention in the media world by gracing the pages of Page 3 and the Daily Sport where she appeared topless. Vicky Valentine videos are scarce but you can browse the VIP galleries for nostalgic babe channel content.
Emily Dean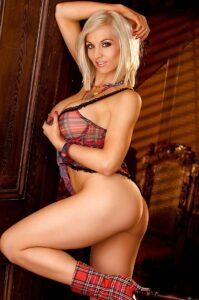 Emily Dean, the curvy goddess made her entrance into the babeshow industry as a stunning blonde. However, she later underwent a transformation, embracing a darker image reminiscent of Lara Croft with her long brown hair and numerous tattoos. Alongside her raunchy babe channel appearances on Bang Babes, Studio 66 and Babestation, Emily proved to be an exceptional TV presenter and anal phone sex queen, entertaining audiences with her playful banter and skills on the mic. Emily Dean was a Page 3 and Daily Sport, having featured in topless photo spreads many times. Explore Emily Dean videos in the VIP galleries or take her private on cam.
Rebecca Smyth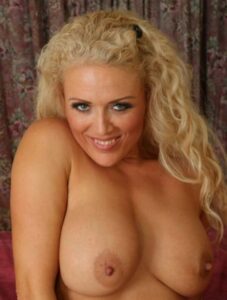 Former Babecast and Babestation TV girl Rebecca Smyth has left an indelible mark on the adult entertainment industry, entertaining audiences with her big tits and vibrant British MILF porn star presence. Rebecca Smyth began as a  a topless model on Page 3 and the Daily Sport before eventually becoming a housewives phone sex operator, babe channel icon, blondes phone sex queen and British porn star. She currently still works in the XXX industry as a content creator on Onlyfans and lists herself as a British MILF escort. Rebecca Smythe has many clips on Spankbang and Pornhub where boy-girl clips can be found of Rebecca starring in blowjob videos and hardcore fuck scenes. Browse Rebecca Smythe videos in the VIP members section.
Tixie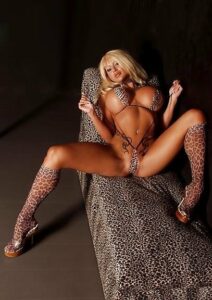 Tixie was a mesmerizing blonde bombshell who appeared on Babestation back in the early 2000s. She carved out a prominent place for herself in the world of babeshow entertainment thanks to her many pictorials in the Daily Sport. Tixie was the UK's answer to Pamela Anderson, complete with big tits, a red swimsuit and barbed wire tattoo. Tall and leggy with a playboy appearance and peroxide blonde hair, Tixie lived up the the Barbie fuck doll persona on the babe channels and she enjoyed rinsing guys with Findom and domination tactics during dominant phone sex, swingers phone sex and sexting.
Jemma Jey
During the same era as Dani O'Neal, Tiffany Chambers, and Jennifer Keelings, Jemma Jey emerged as a petite blonde sensation on popular platforms like Bang Babes, Xpanded, Babecast and Babestation. While she briefly dabbled in girl-girl adult content, Jemma mainly captured attention through her presence on babe channels and by performing solo masturbation shows on BSX. She became known for her mischievous and playful personality on cheap mobile phone sex lines. Fans may also recall her performance with British porn star Amanda Rendall porn involving Jemma Jey pussy and a lollipop.