Beach goers had the fright of their lives last last month when they saw what looked to be a 'dead body' that was washed up on a beach in Thailand.  Thankfully the 'body' wasn't a deceased naked woman, but a hyper realistic sex doll. Beach-goers stumbled across the 'naked corpse' on Bang Saen beach in the Thai Province of Chonburi, which is roughly 100 km east of Bangkok.
The sex doll was discovered sprawled out on the sand wearing nothing but a t-shirt over her head and no knickers.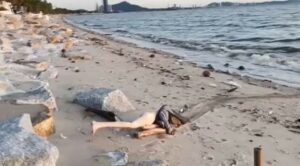 Police were called to the scene after receiving a barrage of phone calls and they rushed to the white sand beach expecting to come face to face with a nude corpse. However, upon arrival they could clearly see that the body was in fact a life size sex doll – and not just any sex doll, but a Japanese model 'AV Idol', which is estimated to set you back THB 20,000 which equates to £469.
The high quality love doll probably floated down into the sea, according to police officers, who reckon the doll was discarded in the river initially. The sex doll was missing its head when it was found and it is currently being kept at the local police station in case the owner decides to stop by and pick it up.
Hmm, I don't see much chance of that happening. Can you imagine popping in to your local nick – 'excuse me, I'm looking for my headless nude fuck doll that smells like rotting river. May I have it back…'
Here was a Bang Saen district police spokeswoman had to say regarding the incident.
"On August 18th, rescue teams were informed that people on the beach were shocked to see a young woman naked and unconscious. The officers then rushed to check and from a distance saw a small, beautiful woman with a bare bottom.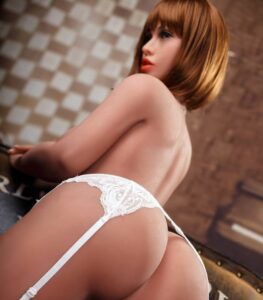 But when they moved closer it turned out to be an AV sex toy. Her head was missing and her bottom was exposed. We checked on the internet and they cost about 20,000 Baht. We believe the sex doll had been dumped in a river or canal before entering the sea and washing up on the sand. It has now been removed in order to prevent it from scaring tourists.
If the owner wants to reclaim their doll they can collect her from the rescue team's station."
It could be the work of someone's furious wife who decides to toss her husband's prized possession into the river. However the sex doll ended up in the water, I'm sure the police are now having a fun time with her.
You can have a fun time by joining the Babestation VIP members area here!  Or getting dirty with one of the babe channel babes on their next cam show