As part of the 20th Birthday celebrations here at Babestation, we are taking a look back on what makes Babestation so special and the unique traditions and features that make it stand out above and beyond all other babe channels.  A massive part of that has been the tradition for cosplay.  Each and every year around October tying in the best of Halloween and the best of Comic-Con, (Babestation's yearly pilgrimage to the halls of London Comic Con have become a highlight in the calendar and always produces some unforgettable moments):
This year will be no different as we return once again to comic-con so keep an eye out for more great clips from this year's trip as they arrive in the video gallery and exclusively for VIP members.
It's not just Halloween that brings out the cosplay fun…how about the time when the Queens from house Babestation we celebrated Game of the Thrones with some special photo shoots on the iron throne: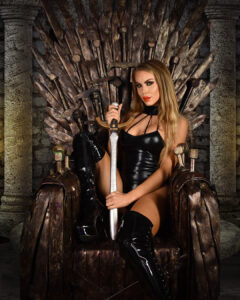 Check more of our Game Of Thrones related blogs including, pornstar Shara Knite playing Armica and Ella Hughes on Game of Thrones.
While the unsuspecting public gets a small taste of how cheeky the babes can be when they get dressed up and released into the wild…It's in the studios that Babestation really gets to let loose as this montage from Halloween 2015 will show you.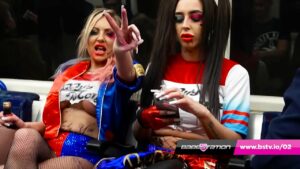 So many old-school babes in kinky cosplay fun.  Cosplay not only gives the girls an opportunity to express themselves through dressing up as different characters but also, gives the audience the opportunity to call them for phonesex or interact with them via pervcam for an extra special naughty show with that extra element of fantasy thrown in.
Here's an extract from one of the biggest fans of Babestation and especially the cosplay nights, @babe_tv who gives their account of one of the most exciting cosplay nights in Babestation 20 year history: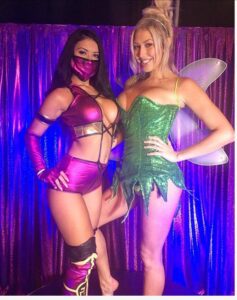 Last night's Babestation Cosplay Halloween Special (31st October to 1st November 2013) proved irresistible. There really hasn't been a night like this on the terrestrial babe channels for a very long time, and particularly after a period in which Babestation looked to be heading into more generic territory, this burst of individuality pushed a much-needed stick of dynamite up the posterior of the Adult channel selections.
When I heard the word "cosplay" being used in the run-up to this Halloween event, I had visions of a half-hearted and largely demand-driven schedule, probably fizzling out altogether towards midnight, after-which normal service would resume. But no, Babestation not only returned last night to the very best of their imaginative thinking – they also did it with full conviction, even redesigning the graphics to tie in with the theme.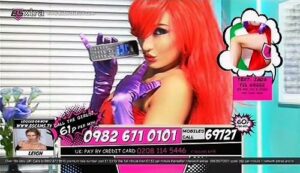 The shows were themed around fictional characters, from comic books, video games and movies. Above you see Jada Rabbit – modelled on Jessica Rabbit. There's a full look at Jada in her dedicated post.
The Freeview transmissions opened with Jada and Lori as Chun-Li (from Street Fighter) and a Ghostbuster respectively. Masses of fun, great entertainment.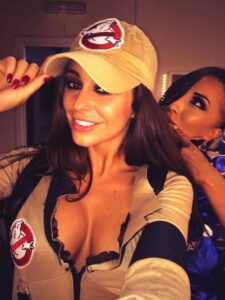 The comic-style graphics set off the whole thing fantastically well. The sequence above almost looks like it's come straight out of a comic.
Lori looked very eye catching indeed dressed as comic book villain Harley Quinn from the Batman stories. That was my favourite outfit of the night I think.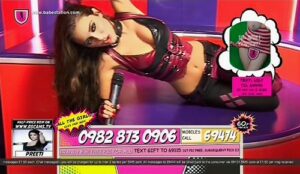 And there was plenty more costumed fun across all the Babestation channels:
1) Lexie Lowe as Supergirl on Babestation Xtra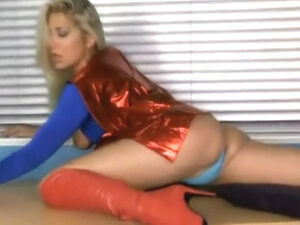 2) Lily Pink doing whatever a spider can (and a hell of a lot more) on a pool table, as Spiderwoman on Babestation 1.  Lily would also appear as 'Where's Wally' later in the show: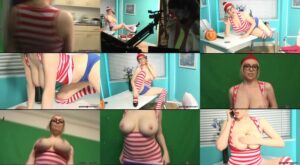 3) Babestation Blue featuring Cali Garcia as Lara Croft and a behind the scene pic of Rocha Jay as Catwoman with Lexi Rider:
It's reached the stage now where the babeshows need to be coming up with ideas in order to survive. It's not just about how much money these events make on the night – it's about how much impact they have on the viewer's (and thus potential customer's) desire to tune in again in future, on a regular basis.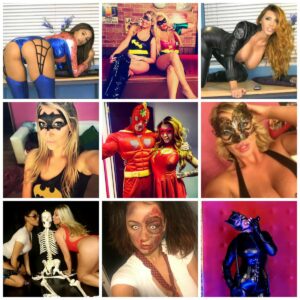 I suspect that a run of good ideas implemented with this kind of conviction would turn around the viewer-indifference which appears to have been afflicting the babe channel genre as a whole of late. There's no longer an option between playing a short-term or a long-term game. It's now long-term or bust. But last night, coupled with other changes in the recent past, appeared to demonstrate that Babestation is now looking further ahead, and recognising the importance of building and maintaining an attentive audience. The shows are adverts, but to keep viewers' attention they have to do something other than advertise. Last night's Cosplay Halloween Special was an object lesson in getting the balance exactly right. No buts, it was brilliant.
Keep an eye on the trending page as well as the babeshows in the next few days to to see what cosplay content is coming your way.  In the meantime, how about a special 20th Birthday picture gallery of some of the babes in their sexy cosplay outfits from more recent years: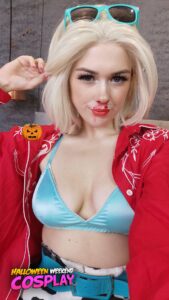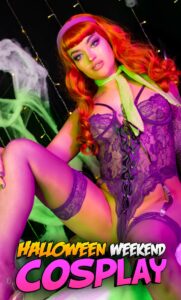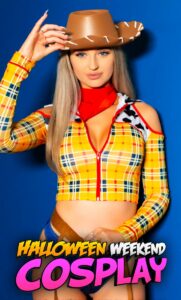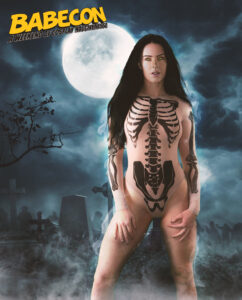 Get involved with these hot babes.  Register on babecall for free!