First published on 24th September 2014, this Tumblr Blog from @Babe_TV takes us back in time to the 7th episode of BS Xtra, get a first hand view from this top Babestation commentator.
Given that I've already posted some, and there were only seven of them, there really can't be many original format BS Xtra intros left for me to add. For this post, however, I've focused on one particular episode: the seventh ever screening of BS Xtra, and the last of the original format shows. The date was Monday to Tuesday 2nd to 3rd November 2009.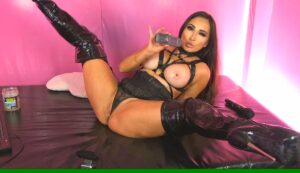 Yvette introduced this episode on Freeview (at 1am on Tuesday 3rd), and she's shown above in the process of so doing. In the live streaming insets, Daryl Morgan was on Babestation 1 (top), Alex Adams was on Babestation 2 (middle), and Jada was on Partyland (bottom). Not only a great encapsulation of the time, but a feast of old-school random/off-the-wall presenters. Also on the shows that night (but not on screen during the intro) were Megan Moore and Lori Buckby. In all, an illustrious and historically very significant line-up.
I mentioned in a previous post that Tiffany Chambers was so impressed watching the opening night of BS Xtra as a viewer that she was motivated to text in and say so – even though she was working for Elite TV at the time. And Tiffany wasn't the only TV babe who enjoyed watching BS Xtra. Here's what Yvette said whilst introducing Episode 7…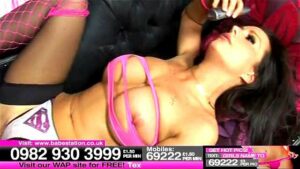 "I was watching this show the other evening – I think it was Friday night, when the gorgeous Little Miss Paige was here at the start of the show. And I saw her opening up and doing her thing [spreads legs] – literally… No, I'm joking… But it was a very, very saucy little sight to see. So I know what it's like to be sat at home, watching the start of this show at 1am, and let me tell you it is a magical thing."
It was very different from the regular babeshows, and it did indeed have a magic to it.
Above, I've compiled some more memories from this particular show. Only the intro would be run without the screen surround and text box, so all of the above images have the more familiar look. Top left, Yvette is joined by Jada. Top right, Alex has arrived dressed as a rather large member of the cat family. Bottom left, Lori is accommodating texters' requests. And bottom right, Megan has just accidentally sworn on the mic…
Leading up to Megan's faux pas, a guy had sent in a text which started in a rather poetic manner, telling the girls what beautiful ladies they were, but finishing with: "… And I can't get over how big Daryl's tits are." The abrupt change of style from poetic to rather yob-like really tickled Yvette, and Megan came in wondering what all the laughter was about.
After explaining, Yvette clarified to Megan exactly how big Daryl's tits actually were… "They're like two of my heads – 34GG…" To which Megan spontaneously replied: "Fucking hell!"… She was very apologetic and seemed a bit embarrassed, but Yvette just laughed her head off again.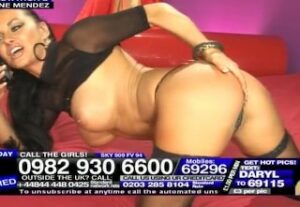 One of the reasons the conversations could get so unusually relaxed may have been that these early BS Xtra episodes were shot in an isolated room away from the 'beds', and overlooking the sets where the other girls were performing. Especially given the prolonged and casual nature of the chat, some girls may have come to feel like they were behind the scenes rather than on the show – especially in these very early episodes when the whole thing was new. Megan was far from the only babe to accidentally swear on the mic in an early BS Xtra show. Even Dionne Mendez did it – apparently for the first time in her career.
At other times, the chat was completely random and off the wall. The sequence with Alex dressed as a big cat was just crackers. Yvette asked her why she was wearing the costume…
Alex: "I was hiding under a table."
Yvette: [looking puzzled] "What, lapping up a bowl of cream?…"
The whole thing could be lunacy at times. The more you watch these old chat shows the greater the value they acquire. Nothing ever scripted, but they'd never stop or slow down. And they often gave so much insight into the babes and their real lives. For example, Megan Moore went to the same school as Lori Buckby. Candy Sexton went to the same school as Geri. In fact, neither Candy nor Geri knew until they were chatting on one of these early Xtra shows and one of them mentioned it. You'd never get anything like this aired on a babeshow in 2014. Real conversation has been completely eliminated from the transmissions, and replaced with a repetitive and neo-automated verbal punctuation.