Following on from our recent blog about live sex cam tech and the way it shapes your experience when you interact with your chosen cam babe.  This piece just goes to show how far ahead of the game Babestation was in terms of innovating new technology to enhance your XXX experience in ways beyond just an image on a screen.  That innovation came in the form of 3D.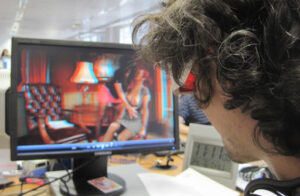 Back in 2010, Babestation Extreme broadcast a 3D Special on Freeview Channel 96 with the action climaxing in a Live 3D sex show.  The 3D spectacular also featured a team up with The Daily Sport and between the two they collaborated on a pull out magazine called 'Clout' featuring images rendered in glorious 3D, featuring Babestation and Daily Sport favourites such as Tommie Jo and Hannah C and also produced a free DVD featuring, among others, Linsey Dawn McKenzie and Michelle Thorne.  As was stated in the press release, this was the first time a lads mag had been published in 3D and with the live action portion of the extravaganza being provided by Babestation Extreme this was a landmark moment in Babestation History.
If it sounds too good to be true, check out the Youtube Trailer for Babestaion Extreme 3D
Some fan reactions from the babeshow forums include:
'Lovin seein camilla gettin into the girl/girl.' from Ro1982 and 'Oh God I wish I didn't have a glass eye!' from LarryDavid
Perhaps it was the rendering of green images over red images that hampered the quality of the picture or the somewhat unwieldy and off putting paper 3D Glasses that you needed to balance on your face in order to create the 3D effect that stunted the growth of 3D in the porn industry.   It's been over 10 years since that attempt was launched, maybe soon the technology will allow for another, more effective stab at it, maybe even incorporated into babestation cams show.