Originally posted in 2014, this is Babestation super fan, @babe_tv's blog from their Tumblr account about the time when Ashley Emma moved over from rival channel, Studio 66 to ply her talents at phone sex at Babestation.  For a number of reasons, Babestation's appointment of Ashley Emma has been one of the most interesting of 2014 so far. Two or three years ago, the notion of Ashley turning up on Babestation was as inconceivable as her appearing on Sexstation, Xpanded or Red light Central. One of the mainstays and enduring celebrities of the Studio 66TV (and previously Elite TV) lineup, Ashley looked most unlikely to depart from her commercial home in the past, but a lot has changed at S66, and the thresholds of compatibility across the industry in general appear to have shifted. Even allowing for the evolution of the industry in the interim, however, the actual concept of Ashley Emma on Babestation still seems pretty alien today.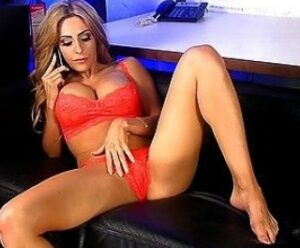 But in reality, Ashley's BS live babeshow debut has been a very good integration. Starting on the night of Friday 6th June 2014, and opening BS Xtra on Freeview with one of the most watchable weekenders for a very long time, Ashley has looked at home on Babestation, and her debut has been well received. She was scheduled to continue the following night opening the Freeview shows again with another long and highly enthusiastic solo session.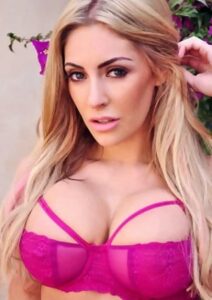 Perhaps the most interesting thing of all about this move is that it's (kind of) seen Babestation acknowledging another babe channel's capacity to produce a babeshow celebrity. It's obviously not unprecedented for BS to take on a girl who's become a big name elsewhere, but in the past it's routinely been Babestation who've built the girls' profiles, and this has definitely been the clearest illustration yet of the tide turning. Babestation's use of the text intro "THIS IS THEEE ASHLEY EMMA!" last night did of course acknowledge the status of Ashley herself, but it also implied a fair bit of kudos to S66/Elite. There are other reasons why Ashley's public profile has soared, but her work on Elite and S66 has remained the predominant element to date. There's thus more than ever a sense today that Babestation have their fishing rod dangling hopefully over the premium Sky channels, rather than the other way round.  Nowadays, Ashley Emma's pervcam shows are legendary as her performances get racier and raunchier like some of the British porn stars who also perform webcam shows on a nightly basis.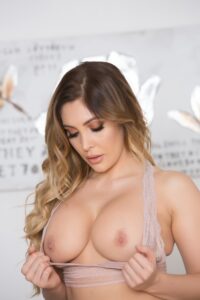 It's hard to predict how things will pan out in the long term, because Babestation is very different from Studio 66, and Ashley was one of the most archetypal S66/Elite girls you could find. Returning to the era of 2011 when Elite TV was running on Freeview, I would never have matched her with Babestation. But based on her BS debut weekend, Ashley has adapted very well, she's looked like exactly the injection of extra glamour Babestation needed, and it's been a pleasure to see her returning to Freeview after a two and a half year absence.  See videos of Ashley here.  And see her other content in the VIP members area