Cam Girls Get Rich – Alex Le Tissier
We were very excited when we heard that our very own Alex Le Tissier was going to star in an episode of the third season of Channel 5 Adults only . Episode 6 is entitled Cam Girls Get Rich and interview Alex about her cam life. "Its about a new generation of live streaming, interactive cam girls working from home. The gift of the gab is as important as an ability to be sexually alluring."
You can watch the show Channel 5 Cam Girls Get Rich if your from the UK or catch Alex on Youtube.
Alex says:
I'm super excited to share that at 10pm (BST), next Monday, 17th April, you'll be able to get to know me even better by watching Adults Only: Cam Girls Get Rich on 5Star. It's an insight into my life at BabeStation, telling the story of what goes into the shows and features some of my friends. Make sure you tune in – I'd love to hear what you think! 
Mwah
Rammy Rascal regular babeshows forum poster thought the programme was good and interesting.
"As for this show on 5 Star tonight, I thought it was really good, giving an insight into working as a cam girl with one of the women the show featuring was Alex Le Tissier & it showed Alex working at home and also it showed her at the BS studios during a day shift & a night shift. Other bs babes on the show included Amber Paige & Megan Rox."
Alex is taking a break from Babestation at the moment but we wish her well and look forward to her return.
Social Media
Keep an eye out for Alex's return to Babestation by favouriting her Alex Le Tissier profile.
This babe is a very well spoken, posh, articulate babeshow sex siren who has been entertaining viewers of the babe channels for the past few years. At 5'4, Alex Le Tissier nude is one of the naughtier babes we have on our books and she gets a lot of callers asking her to play up to the role of sexy girl next door. Brunette with jet black hair, green eyes, big boobs and a pert ass.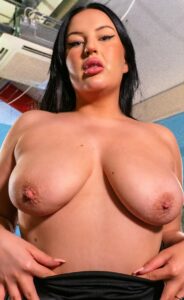 More pics of Alex Le Tissier in the gallery.