Babestation TV provides the best of the best when it comes to gorgeous tattooed, alternative models. Fans of inked hotties have their pick of the bunch as more and more alternative babes join our babe channels and cam platform. However, inked babes weren't always so readily available on the babeshows. If you go back to the 'old days' of the babe channels, from studio 66 to rampant tv, sexstation, xpanded, red light central around 2005-2012, inked models were a rarity. A couple of models that spring to mind are British porn stars Delta White and Tixie, who both had several tattoos, albeit not to the level of ink that seemed to explode onto the babeshow scene around 2014 onwards.
Porn was a different matter, British porn films have featured heavily tattooed stars for decades. Look at Angel Long, Sarah Jessie, Bonnie Rotten and Christy Mack. Babestation started to notice a shift in attitudes towards alternative women. There was a higher demand for inked alt models on the schedule around 2015 and what viewers want, viewers get. Babestation started receiving an influx of new tattooed hires and it all snowballed from there. Babestation now offer a vast variety of tattooed talent, just waiting to connect with you on a sexual level, whether by webcam, Pervcam or an intimate phonesex experience. As previously featured in Inked Magazine's Angels issue, we've compiled a list of the "Hottest Inked Babes" on Babestation who are currently appearing on our babeshows or via the Babestation Cam platform.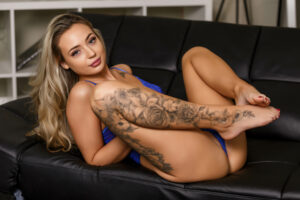 Since her Babestation debut a few years back, Poppy May has been increasingly trending on the babeshows, and fans can't get enough of the petite babe's svelte form, sexy tattoos, and small but exquisite boobs. Poppy May may have the innocent appearance down to a T, but don't be fooled; she loves to boast about her naughty exploits, which include tantric naked massage, spectacular BJ abilities, and outdoor fucking. Roleplay costumes, lingerie, stockings, and tights are just a few of the sexy outfits Poppy May enjoys wearing on the babe channels. Call her for hot JOI adult phone chat or take her private on cam for an unforgettable XXX porn experience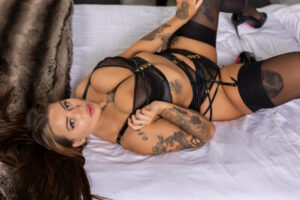 Maddison Lee is a sultry green-eyed minx who enjoys flaunting her natural big tits on cam, Pervcam hidden camera and on the babe channels. She is an alternative brunette glamour model with lots of tattoos. You have a lot of options with Maddison Lee whether you prefer tits or ass because she is a voluptuous babe with an hourglass body that she loves to show off. She is happy to strip nude / topless or play with her shaved pussy for a solo masturbation show with lots of dildo action. In the office set, get her bent over for some hardcore fucking, doggy style, twerking fun!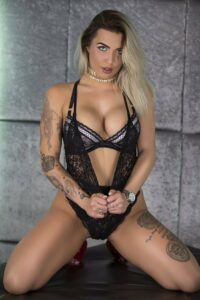 Daisy Dillon is an attractive, curvy, heavily inked comic book heroine. When she's on Babestation, Daisy enjoys switching up her appearance and she frequently changes her style to reflect her mood. Daisy has numerous enormous tattoos all over her body, favouring big bold designs. She loves getting naked to play with her shaved pussy or spank her big ass on Pervcam or webcam. She enjoys dressing up, JOI, phonesex, BDSM, bondage, roleplay, nude / topless striptease, oily tits, pussy play, feet worship and bondage.
Phoenix Knight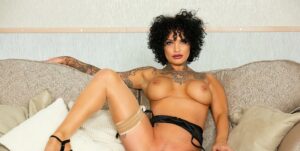 Phoenix is a wild fetish model who enjoys stripping off and getting naked. Phoenix, who is well-known for her full sleeve and massive chest tattoo, enjoys the alternative scene and freely confesses that tattooed men with several piercings are her greatest weakness. Phoenix can often be seen getting extra filthy on webcam and Pervcam where she loves to talk about your explicit porn fantasies and kinks, such as JOI, edging, spanking, anal teasing, dildo pussy play, deepthroat BJ, BDSM, feet worship and more…!
If you're interested and want to know about porn stars and tattoos, check out some of these sites, featuring inked porn stars and BSX babes with plenty of ink.
Wanna see more inked babestation babes? Check them out here!
Adreena Winters:
Buy her clips at ManyVids adreena_winters.manyvids.com, iWantClips iwantclips.com/store/165311/Adreena, and Clips4Sale clips4sale.com/studio/71176/adreena-winters. Join her Pornhub for free content at pornhub.com/pornstar/adreena-winters and get her paid content on Modelhub modelhub.com/Adreena. And catch her on cam on Babe Station at babestationcams.com/performer/adreena-winters
Adults Only: Cam Girl Millionaire airs tonight at 10pm GMT in London. The show is part of Season 1, and Episode 1 is a Christmas Special. In tonight's episode, cam girl Sheena wants to purchase her own cam studio and manage models. She discusses her extensive business plan for the future and how much she currently makes camming. Joined by real estate agent Lacey, the ladies look at potential studios. Also, during the episode, they film Sheena doing a gold cam show that's all about her feet. Viewers get a sneak peek of what it's like to be a successful cam model. Also spotlighted on the episode are Studio 20 and Babestation.