The allure of lingerie is undeniable and has the ability to captivate both men and women. It is considered a goddess-like attire that can make anyone go crazy, building anticipation for what lies beneath. The sensuality of lingerie stems from the idea of revealing something greater once it is removed.
Lingerie has evolved over time, with different styles of underwear and materials, but its impact remains constant.  It ignites desire and adds an element of excitement to intimate moments. From lace to silk, satin to sheer, lingerie has become an integral part of the fashion industry and continues to mesmerize people worldwide.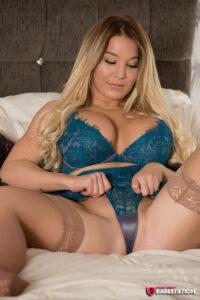 Lingerie is not just a mere outfit, it serves a greater purpose. It may reveal some skin in a seductive way but it also enables women to feel like the sensual beings they truly are. As they flaunt their most alluring features, lingerie empowers them and elevates their self-assurance to unprecedented levels.
Donning lingerie can evoke a strong sense of empowerment, encompassing both dominant and submissive roles. It can fuel a woman's desire to assert dominance over her partner or transform her into a willing and submissive participant who longs to serve as a sexual plaything for whoever she is engaging in sexual activity with.
Babestation Live Cams Lingerie
Watching live cam shows with women wearing lingerie can be incredibly arousing due to multiple reasons. Firstly, lingerie is designed to accentuate the curves and contours of the body, making it an alluring sight for many individuals. Secondly, live cam shows offer an intimate experience that allows viewers to interact with the performers and request specific actions or poses, adding a layer of excitement and anticipation.
Additionally, the element of voyeurism adds to the allure as viewers are able to watch these intimate moments from the comfort of their own homes. Ultimately, watching live cam shows with women wearing lingerie can be a unique and thrilling way to explore one's sexuality and indulge in their fantasies.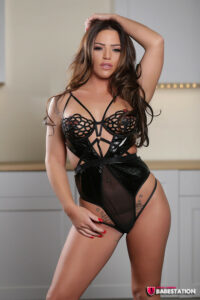 Wearing lingerie often boosts a woman's self-confidence as it highlights and accentuates her curves, making her feel more comfortable in her own skin. This newfound confidence helps alleviate any self-doubt or hesitation, allowing her to freely showcase her abilities without overthinking.
As a result, women who wear lingerie often feel inclined to take things up a notch and explore their sexuality in ways they might not otherwise. In essence, they have the freedom to fully reveal every inch of their body to their audience once the lingerie is removed.
Black Lingerie is also a very popular attire for women in the adult industry so, it can be quite difficult to find the best babes in lingerie out there on the internet! With thousands upon thousands of live cam girls wearing lingerie out there, making a choice on who to watch can be a challenge but, fret not because we are here to help! 
If you've been wondering which ones are the Babestation Featured Cam Girls that wear amazing sets of lingerie then look no further because we are about to spill the beans! 
Live Sex Cams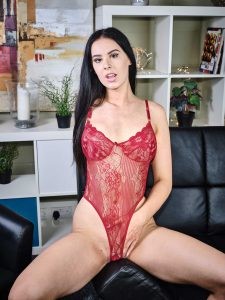 Amber Paige is a captivating brunette TV babe and cam girl who exudes an irresistible allure, making you crave to indulge in a night of passionate lovemaking. However, before surrendering to your desires, she tantalizingly displays every inch of the exquisite sexy lingerie that accentuates her graceful curves. Stockings adorning her sexy legs.
She is naughty, sassy and cheeky so, in short, everything you could ever want in a gorgeous adult cam girl like her but, she also often wears amazingly enticing lingerie that can truly make your mind travel to infinite rivers of sexual fantasies and deep alluring desires.
This cam girl's stunning lingerie collection, be it black, red or any other color, will have you coming back for more. She tantalizes her audience with a slow undress, revealing her incredible body and tight pussy while spreading her legs wide open. You won't be able to resist tuning in time and time again for some adult phone chat . Perky tits and a perfect body webcam looks sexy in latex.
Want to see Amber Paige naked? Check out these pics of Amber.
Babestation Pervcam Live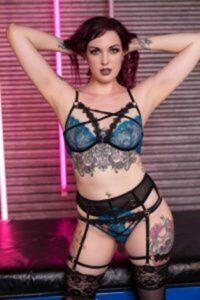 If you're seeking a unique and stunning British porn star and cam girl who wears lingerie that sets her apart from others, and whose aesthetic is distinct from most other cam girls online, Cici Anders is the perfect choice. Regular lingerie may not excite you anymore, but Cici's kinky style will surely satisfy your desires.
Not only is she a fervent admirer of lingerie, frequently donning stunning sets and seductive ensembles during her live cam shows to constantly captivate her audience, but she also possesses a distinctive cyberpunk gothic mistress persona that, when combined with her neon hair and tattoos (which adorn various parts of her body), renders her an incredibly fascinating and enticing cam girl to observe! Sexy panties and big tits.
Her expertise in various kinks such as BDSM, domination, JOI and others is exceptional. This adds to the delight of watching her live webcam shows, which are always impressive and leave a lasting impression on the viewer.
Want to see more of Cici Anders? Check out her profile above.
So grab your cock and get ready for the perfect webcam hand job from a hot milf in lingerie