Cam Girl of the week Pheobie Y is a brunette glamour model, TV star and webcam stunner. If you're wondering why she looks familiar it's because she has two incredibly well-known sisters in the industry, Preeti & Priya. The twins taught their younger sister everything she needed to know about offering an unforgettable cam girl experience and she truly is a force to be reckoned with. Pheobie may be new to the industry but she doesn't live in her sisters' shadows. She's carving out her own career and when she gets on webcam you can see how much she loves getting down and dirty.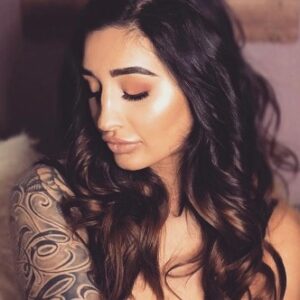 What do you enjoy most about being a Cam Girl?
I love playing up to the camera and performing. It's also a great way to chat to new exciting people and find out about all their lives and sexual fantasies
How would you describe yourself?
Just because I'm the younger sister of Preeti & Priya, doesn't mean we're exactly alike. Whilst there are similarities between us all, I'm completely different in the way I cam, talk dirty and pose. I love showing off my natural boobs. I like to think I'm the cheekiest out of the three of us!
Describe your cam shows?
Seductive, tailored to your needs, lots of roleplay and descriptive sex chat
What's your favourite outfit to wear on cam?
I like classing lingerie and normal clothes like jeans and a low cut top. Callers seem to really like it when I wear a normal sexy outfit
What turns you on?
Lots of thing – erotic massage, strong rugged men, watching a man's fave whilst I perform a strip tease
What's on your sexual bucket list?
I have so many things I want to try but you'll have to cam with me if you want me to tell you
Do you have a fetish?
I love being spanked and blindfolded. A bit of light bondage is fun
What do you look for in a man?
Polite, well dressed, chivalrous
What's your ideal first date?
A shopping trip to Louis Vuitton or weekend trip to Paris would be nice
Does dirty talk turn you on?
I love talking dirty to my callers. I really get off on seeing your face on C2C whilst I tell you what I'm going to do to you
Are you a fan of spanking?
Not too hard but I like a tap of light smack on the ass. I have a great smackable bum too
What do you like to discuss with your callers?
Anything you like! So far I've had callers ask me to talk about blowjobs, threesomes, cowgirl position, roleplay, BDSM, foot worship and cuckolding
What's your favourite sex toy?
You'll have to come and see. I have soooo many
What are your areas of expertise?
Strip tease, roleplay, nude posing, dress up, twerking, pussy play
What's your availability on cam: Whenever possible. I try to go on a few days a week