With June right around the corner, we've got two more blogs from Mr BSX himself, featuring pics and impressions from two shoots, for Babestation Xtreme back in 2012.  Including top British pornstars, Caprice Jane and Jasmin Black.
June 14th 2012 – Fork Lift Trucks and Caprice Jane – Babestation Xtreme
As most of you probably know there is lots of stuff in the News lately about unemployment and the general state of the Job Market, and It got me thinking,firstly about how lucky I am, and Indeed how lucky any of us are to have a half decent job, I mean, it seems to me all there is on offer at the moment is bloody supermarket jobs, not much choice If you are a school leaver who didn't make it to Uni but still wants to make something of their life…that's why I'm so impressed with Jack Mason, did you know that our dear Jackie boy used to be a Fork Lift Truck driver ? I shit you not..he used to race up and down a warehouse between racks of Pallets in his little Hitachi ForkLift racing his mates with a roll up pursed tightly between his lips dreaming about one day lifting something slightly more glamorous than a pallet full of cat litter…
Between breaks on this shoot with the lovely Caprice Jane, Jack regaled me with his adventures in his previous life…'oh aye man, was op and fockin' don with me fookin truck all day like, fookin borin was too like'… bear with me now, Jack is from Derby so some translation is required, apparently life was none to exciting for the wee lad.. 'don me porn now like top bird Caprice liftin her on me fookin cock like, fookin way mon love it yeah'… from lifting pallets of cat litter to lifting the gorgeous Caprice Jane ..the boy done good !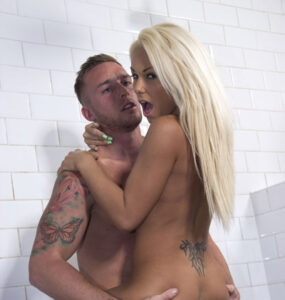 (You may have seen Caprice on the babestation live babeshows but she never appeared on Studio 66, Red Light Central, or Xpanded we were lucky enough to get exclusivity over all the other babe channels for this gorgeous babe!)
June 11th 2012 – Jasmin Black, Romanian She-Devil Comes To Town – Babestation Xtreme Shoot
you know I like to think an Erection is like the theory of relativity, the more you think about it, the harder it gets..and Jasmin Black is similar in many ways, the more you think about her, the harder your cock gets, when she walked into our office wearing a skirt so short you could tell what religion she was, all the desks started rising up as if floating on a sea of hard dicks, now I like to think I'm professional during moments like this (note to self-restock ice cubes in fridge) but even I found myself strangely hypnotised by her 'cum to bed eyes', but that was nothing compared to those amazing Breasts.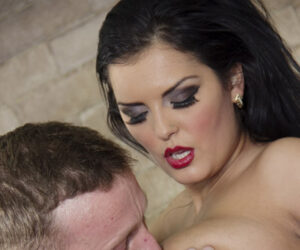 Jasmin is 'all natural' in the titty department she insisted I have a feel to verify that, and I can testify to their amazing texture and bouncy-ness…she said she had to leave town the same day so If we could shoot something there and then that would be great, a quick phone call to 'Studs R Us' and Peter Oh Toole turned up ready for some XXX Babestation Xtreme action, by which time Jasmin had had ample time to pleasure herself during the video and photoshoots, meaning she was raring to go..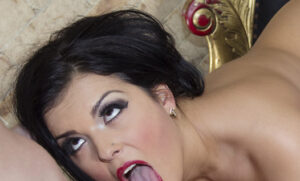 Without waiting for a cue Jasmin grabbed Peter's member and shoved it between her ruby red lips, 'mmm I love the english cock mmm ' as she gobbled him up.." I'm going to have to recite the Arsenal football team out loud to stop myself cumming too quickly' Peter whispered to me…'well' I said ..'Just remember David Seaman doesn't play for them anymore I don't want you unloading when you get to the goalkeeper'…christ, where do they find these guys…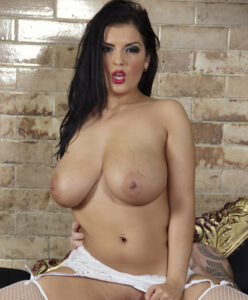 Jasmin giggled as she bounced on his cock, she said Romanian porn stars are like Dracula, I was suddenly concerned she was going to turn on Peter and sink her teeth into his neck, she must have seen my concern because she said 'on no..I'm not going to suck his blood…I'm going to suck the cum out of his balls'..to which Peter looked at me and said 'I'm sorry mate, I can't hold it back any longer…'
Oh dear…time for a rematch..someone get me Marc Rose' number !
Find XXX content of these babes in the Babestation VIP Members area!
For sexy pervcam shows from your mobile phone register for free on babecall.  New users get an extra 50% on your first top up!! And no recurring charges or subscriptions.