@Babe_TV is back again with the first in a cheeky two part series on our favourite old school babeshow babes appearing on our screen completely naked!  This post first hit their now defunct Tumblr account on the 29th September 2014 and has been salvaged and re-posted right here by us.  Enjoy!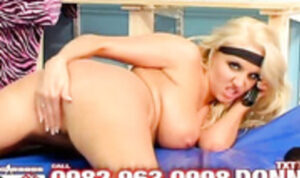 The minutiae of babeshow history can easily overlook a proverbial 'elephant in the room', the glaring historical achievement of the babe channels is establishing the state of nudity as an acceptable feature of post-watershed television. Not momentary nudity, justified by some "valid context" or other, but all-night nudity, for its own sake. If you understand how broadcasts have always been assessed for suitability, you'll know how important a distinction that is, and why it makes babeshows unique.
This post features some eye-opening images from the Bang Babes Freeview shows, but let's be clear: it was Babestation who did this first – both on the Sky platform and on terrestrial television. The claim Babestation made in their 10th Anniversary programmes about changing the face of television, was not empty hype. It's true, and the impact they've had is pretty dramatic. People will inevitably trivialise babe channels, but before Babestation, no artistic genius in the history of television ever managed to get the British public to accept nudity sustained over a period of hours, let alone on a general pretext of "Just because".
It is, however, the long defunct Bang Babes whose memory opens the post. If anyone thought that Amanda Rendall was going to be impossible to beat for impactive performances on Bang Babes, they weren't budgeting daytime babe Dannii Harwood into the equation. The opening image, taken from the TMTV Freeview show (Channel 98) on 15th October 2010, sums up the ass-kickin' approach of Dannii on a Bang Babes night show. From a girl Freeviewers previously only knew from daytime, these performances had an explosive impact.
The first full nudity on a Freeview babeshow came in 2008, courtesy of Donna Duke and the Babestation-run show Party Girls. Amanda Rendall and Tiffany Chambers also made notable early naked appearances on the same show, but all of this was experimental and one-off in nature. It would be November 2009 before regular nudity commenced on the Freeview babeshows.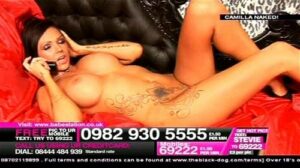 Camilla kick started the first phase of regularly nudity on Freeview, and she set the parameters for the future with a tasteful and graceful routine that integrated perfectly, and without offence, into post-watershed viewing. It was a very elegant and beautiful style. Instinctively controlled, but extremely powerful. The pic captures the moment when Camilla became the first completely naked girl on the Partyland Freeview show. The full nudity was only possible on Partyland Freeview at this stage because of a temporary allocation of the show to Channel 99 or 95 between midnight and 1am, when it wasn't being restricted by Channel 97's 'softer' licence. The footage for the above capture comes from Channel 95.
This was the first real drive towards full nudity started for the Freeview babeshows: Babestation 1, November 2009. There was an obvious push for a naked feel, with lots of the babes removing their underwear. However, in autumn 2009 most of the girls used towels or sheets as an extra line of protection – on the request of moderators in at least some cases.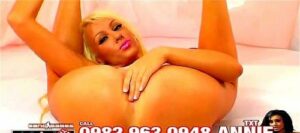 It's pretty clear from the above image that by autumn 2010 Bang Babes were not trifling around when it came to stopping Freeview channel flickers in their tracks. Whilst a picture can be made to fit any story you want to tell, this was no momentary risk to be immediately followed by a camera diversion. This was regular and sustained content. The babe is of course the incredibly energetic Lucy Summers, who for pretty evident reasons proved a favourite with fans.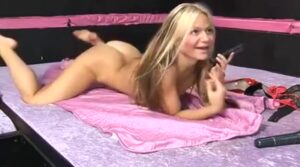 This was a great sequence from the early days of BS Xtra. Geri had moved away from taking phone calls and was pro-actively driving sales for the channels as a presenter and behind-the-scenes operative. She'd stopped doing topless appearances, but this quickly created a situation where she could conjure up the ultimate attention grabber by billing a one-off striptease. There were a handful of these events, the first of which was Geri's first time completely naked on Freeview. Here, Geri is with Stevie-Louise Ritchie, and it's possible to see when watching the footage that the aim was not just to attract attention to the channel and reward those who'd texted the show with requests, but also to pack as many callers onto Stevie's line as possible.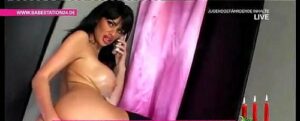 The advertising potential of stark naked women on a TV show cannot be underestimated. And advertising is, afterall, what the channels are all about. The above pic shows Ree Petra  as the main presenter, before moving onto Babestation Xtreme as the featured performer. Ree presented the promotions for her own show completely naked, but again, there was evidence that the naked presenter idea was more than just an appetite-whetter for the product being sold. Other presenters worked naked over longer periods or while presenting promotions unrelated to them – suggesting that there was always one eye on grabbing the viewer's attention. You can pile as many flashing or scrolling graphics onto a screen as will fit, but there is surely no better way to get a message across on a babeshow than with a naked babe, a mic, and a plasma screen.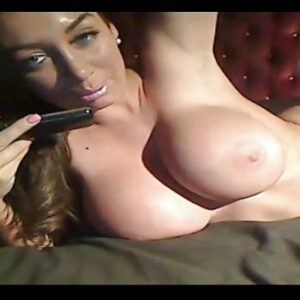 And concluding with some classics from Babestation in the days when its TV footage was still a gift for screen-cappers. At the top, the very memorable Karina Currie, who left the Freeview shows in winter 2011. Centre left: Charlie C, who was, before her move to daytime, one of Babestation's most rockin' night girls. , Georgie Darby, who at one time was making fairly regular naked appearances on Babestation. Here's she's on BS Xtra, and posing in the manner of Georgina the magazine centrefold – her semi-alter-ego. Babestation would proudly refer to Georgie's modelling successes when promoting her on screen around this time in 2010. I even remember Geri bringing on some of the actual magazines and showing them to viewers one night – must dig that out and post pics…