It was announced a few months ago that the movie 'Attack of the 50 Foot Cam-Girl,' was due to be released and it looks pretty interesting. The film is brought to you by Full Mood Productions and was created by renowned filmmaker Jim Wynorski who also directed Chopping Mall, Sorority House Massacre 2. Attack of the 50 Foot Cam-Girl shows what can happen when a gigantic woman is insulted by a regular-sized person. You can probably guess it isn't going to be pretty. It is a horror parody after all. Check out the trailer here, be warned, the acting is questionable, although that probably adds to the charm.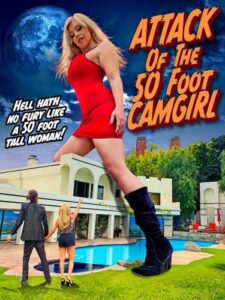 Attack of the 50 Foot Cam-Girl, was written by Kent Roudebush (Evil Bong 666) and produced by Full Moon creator Charles Band. Here's the official synopsis:
Beverly Wood is one of the biggest stars on social media. Millions of fans subscribe to her sexy cam girl shows and buy her products and it seems like everyone loves her. Everyone that is except her husband and Fuschia, the young upstart who secretly plots to bring Beverly down and take over her online empire forever!
(They may not be 50ft tall but you can get involved with 1000s of different rampant cam girls from across the babe channels by registering on babecall and joining their next pervcam shows)
But when Beverly's latest – and untested – brand "Unholy Meat-rimony" gives her some gargantuan side effects, she becomes an even BIGGER force to be reckoned with! Ballooning to beastly proportions, the now 50 foot tall influencer becomes super large, totally in charge and ready for revenge in this wacky comedy that's positively bursting at the seams!
I'm not going to lie, that might be the best synopsis ever written.
Ivy Smith plays Beverly Wood in the movie, making her acting debut. Other stars and porn stars include Christine Nguyen (Sharkansas Women's Prison Massacre), Eli Cirino (No Name and Dynamite Davenport), Lisa London (The Morning Show), Jaret Sacrey (Masters of Sex), Frankie Cullen (Bikini Frankenstein), Cindy Lucas (Bikini Car Wash Massacre), Lauren Parkinson (Avengers Grimm), Michael Gaglio (Attack of the Killer Donuts) and Becky LeBeau (Busty Coeds vs. Lusty Cheerleaders).
If you're interested in finding out more Attack of the 50 Foot Cam-Girl, you can check out the podcasts on Spotify.
During the first podcast, Ivy Smith, who plays the lead, talks a little bit about the film and how she got into modelling. She also talks about how she ended up as the 50 ft cam girl and the nerves that come with doing a nude scene.
Join babestation cams to cam with babestation TV girls.