If your type is a smoking hot blonde glamour model who just so happens to bare a striking resemblance to old Hollywood movie star Bridget Bardot then you might want to call Imogen James because she's bound to tick all your boxes. Curvy and athletic babeshow girl Imogen first entered the XXX phonesex babe channels industry when she was an 18+ teen and since then she has developed and honed her X-rated skills to an expert level. You might even say she's a professor at this point. Highly experienced in the art of teasing and burlesque, Imogen knows how to tease you to the brink with her erotic nude and topless striptease until you're begging for more. Don't worry, she won't leave you with blue balls – this babe will give it all to you and turn you on with her filthy JOI sex chat and open leg pussy flashes.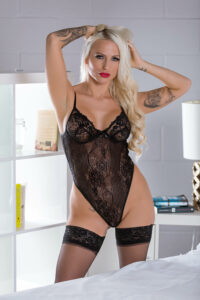 Throughout her years on the Babeshows, Imogen James has appeared in numerous lads mags, page 3 and other babe channels including Studio 66, Xpanded and Playboy TV. She is one of the hottest models currently appearing on Babestation TV and she loves to chat to horny men, women and couples about their XXX porn fantasies. Nothing is off limits. Want to imagine you're fucking Imogen and her sexy lady friend in a hot threesome? Imogen has plenty of experience when it comes to group sex and she is more than happy to roleplay any kinky erotic scenario or pornhub style fantasy that takes your fancy.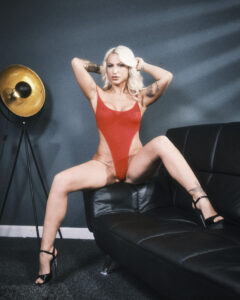 Imogen James has plenty of toys, lingerie and sexy underwear so take your pick, she loves taking requests. She says it gets her shaved pussy super wet just knowing she is getting you excited. Call her on Babestation TV to hear her talk about her blowjob technique or check out her Pervcam for a sneaky glimpse of her perfect tits, ass and shaved pussy. Literally nothing shocks Imogen so if you have a fetish or kink you might be too embarrassed to chat to your wife or girlfriend about, Imogen will cater to your needs with a smile on her face. This porn princess does it all, from college girl roleplay, domination, humiliation, anal teasing, feet worship, dildo play and lesbian girl girl fun to edging, lovense squirt fun and BSX naked solo masturbation. What a babe!!!
Stay updated with upcoming shows via the Babestation Twitter account or head to the VIP members area for Imogen's nude pics & videos.